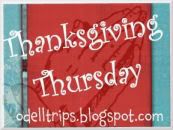 This week I am thankful for a lot as usual but the first thing that comes to mind is SUMMER and all that is has to offer! It has hit Michigan in a big way this week and though it comes with a lot of activities we have had a lot of fun thus far. So in no particular order, I am thankful for:
A plastic pool that I get to soak my feet in while the boys play until they are exhausted. (Which leads me to #2).
Tired children that take long naps and sleep late.
Aunt Mimi's pool, piano and Summer library program all of which entertained the boys on Monday.
Summer B-day parties that allow you to socialize outside while the kids run around. The noise level is so much more bearable when you are not cooped up inside with 10 kids under 8 years old. The boys were thankful for the cupcakes! :)






I'm thankful that the boys are physically able to try new things. I am less thankful that Alex likes to try and climb the slide with NO HANDS!!! (He looks like he is saying "What's the problem Mom?")




I am thankful that Eli is still timid enough to go down the slide as seen in the following picture because it means one less to worry about.

Enjoying summer thunderstorms with Daddy. I'm thankful that Daddy had this idea (so were the boys).
(I LOVE this pic of Alex. Soak it all in, baby boy, soak it all in!)
9. Last but not least, I am thankful that tonight we have NOTHING to do but be together as a family!